"The litmus test appears to be whether they are perceived as champions and organizers around the rank and file's basic needs or not"
Massachusetts Machine Shop, Inc. was a small metal stamping factory on Albany Street opposite Boston City Hospital in the heart of Roxbury, Massachusetts. The company manufactured washers, burrs and shims of all shapes and sizes. The Knight family of Marblehead had owned the company for generations. Total employment was 60 workers toiling in an old four-story brick factory building whose parking lot abutted the giant Stride Rite shoe corporation across the street.
Mass Machine was not a citadel of capitalism at the commanding heights of the economy, but a lot happened in the three years that I worked there from 1973-75. Our organizing there generated a lot of lessons and also a lot of illusions. I say our organizing because the factory was "salted" by four of us, all with different political outlooks. Salting is an old term that refers to the practice of politically conscious organizers going to work in a factory, mill, mine, hospital or other service workplace to organize a union or strengthen the existing union. The metaphor comes from "salting" a mine to bring out the richness of the ores or "salting" a wound to exacerbate the sores. Salting is the richest term, but "industrializing" or "colonizing" are oft used descriptors for this political practice which has a long history on the American left. There is a fine biography of Hapgood Powers entitled "From Harvard to the Ranks of Labor" by Robert Bussell, that recounts the odyssey of a Harvard student who participates in some of the most epic battles of labor in the 20's and 30's as a worker and an organizer.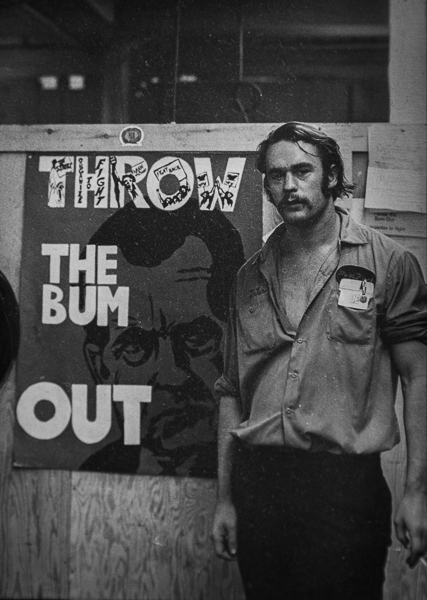 My choice of Mass Machine as a place to "salt" was not the product of any deep reflection on strategy or any thought of paralyzing capitalism by striking at key sectors of the economy. At the time if I had been in one of the many Maoist political formations I would have been directed to seek work at one of the three "Generals" in the greater Boston area. General Electric has a massive manufacturing operation (albeit downsized today) that makes giant gears and jet engines in Lynn. General Motors had an assembly plant in Framingham. The Fore River in Quincy was home to the giant ship builder, General Dynamics. All these facilities were well stocked with left wing agitators. At the time I was working at NECCO in the fall of 1972 I was part of the Red Lantern Collective in Cambridge. The collective took its name from the title of a revolutionary Peking Opera performed on May 1, 1970. We were all radicals out of Harvard grappling with how to be revolutionaries. One thing that was respected and exalted was the process of transforming yourself, betraying your class background by becoming a worker and organizing. So when I met up with some left-wingers working at Mass Machine who were committed to organizing a union there, I jumped on board. They were welcoming of me as my command of Italian was considered a big asset, a third of the workforce was from the region of Catania and the cities of Avellino and Benevento.
In late January of 1973 I began my employment at Mass Machine Shop. I was hired as a punch press man. I fed sheets of metal under a cutting tool that cycled up and down when operated by a foot pedal clutch. My press was manual and I was handling heavy metal stock that was cut into washers. Other presses at Mass Machine were automatic, running thinner stock off of coils. The presses all had individual electric motors, but the old overhead belts that had been driven by a universal shaft were still hanging from the ceiling. The problem with the presses was that the clutches were not precise and the cutting tool would sometimes cycle on its own creating the possibility of danger to the digits. My first week on the job, the punch repeated on me when I had my left thumb in the die area. I escaped with a slight wound, but the scar reminds me of Mass Machine to this day. One of my fellow workers was not so lucky. The small factory was abuzz when Pat Caizzi our foreman commanded Salvatore Masi, the long time maintenance mechanic to clean up the blood and skin from the die area after an employee's finger was chopped off. Sal was upset and let everyone know that he did not like being forced to confront the gore of the unfortunate accident. In an industrial setting, the maintenance mechanics play a key role because workers rely on them to keep their machines running, and they have the run of the factory so they become message carriers. Sal had been a loyal Knight family guy, but now he was talking union.
There were four of us who were the industrial salts all with differing political perspectives, but when it became clear that there was "heat" among the workers, a desire to organize, we had to figure out what union to work with. We knew that the International Association of Machinists (IAM) and the United Steelworkers (USW) represented metal manufacturing facilities. However we found that there was a Local 262 of the United Electrical Workers with small manufacturing facilities in the Boston area. This was an amalgamated local with many smaller to mid size shops in its membership unlike a giant single corporation/single plant local like the unions at the 3 "Generals". The winter meeting of District 2 of the United Electrical workers was to be held on a weekend in February at a hotel in Framingham. We asked the union if we could attend and were invited to meet the delegates from all over New England. After the usual formal agenda issues of new business, old business and Good and Welfare were dealt with, International Representative Don Tormey was asked to make his report to the District. Tormey was a legendary organizer and leftist who had traveled all over the country and Canada (hence the designation International Rep) organizing and representing workers. Tormey must have known that we, young impressionable leftists, were in the audience. He launched into a denunciation of capitalism and its evils. He linked it to the challenges that UE members were facing in their workplaces. We were heating up! Then he wrapped up his remarks by blasting the control that capital and the government exercise over workers and concluded by declaring that, "We need a dictatorship of the proletariat." We decided there was no need to interview any other unions. We drove east back to Boston warming to the task of organizing our fellow workers into the United Electrical Workers, the UE.
I have often wondered thinking back on Tormey's speech as to whether he was regularly accustomed to reveal his politics so openly to all the members of the UE District Council and the rank and file. After all even in the ranks of the UE like any other trade union in the United States there is a huge spectrum of political opinion. Did Brother Tormey fear that being so open about his socialist politics would make him prone to attacks and possible retribution? He certainly must have experienced the challenges of the Red Scare McCarthy period in this country when Communist labor leaders and unions were public enemy number one. In studying history though it appears that many Reds have been open about their politics and still held in high esteem by more conservative union sistren and brethren. The litmus test appears to be whether they are perceived as champions and organizers around the rank and file's basic needs or not. I have seen other union leaders who have openly displayed their left politics but forgotten to tend to the needs of their rank and file, savaged by worthless opportunist opponents who fill that vacuum in leadership of the day-to-day struggles.
The most famous example of this dynamic in the UE was the case of Bill Sentner (here and here) who was the leader of the UE District based in St Louis during the red scare of the early fifties. Try as they might the local power structure, politicians and employers could not dislodge the open communist, Sentner. The rank and file supported him and was not surprised about his political affiliations because they had never been a secret. It was only when the UE national leadership perceived his presence as a problem that he stepped down. The same is true for the legendary leader of the March Inland in Hawaii that organized all the plantation sugar and pineapple workers into the International Longshore and Warehouse Union (ILWU) in the 40's and 50"s. Crew cut Okie Jack Hall was an open communist and yet no amount of red baiting including directly from the US Senate that was to approve statehood for Hawaii could dislodge him from the favor of ILWU members. There is something to be said for sinking deep roots with the workers, sharing their lives and fighting with them for better conditions of life and work. It does wonders for one's credibility on a host of issues including socialist ideas.
Next OO#9 – Winning the UE at Mass Machine and a first labor contract in three languages
"People have too many experiences of powerlessness, and not enough of collective power"

…when you build such power you can get statewide power without having electoral majorities
In most of the states of the Black Belt South African American population hovers around 30%. In many states the presence of new immigrants, Latinos and Asians, mean that "minorities" approach 40% of the population. Why haven't these demographic groups leveraged their numbers into more statewide power? What would that power look like beyond occupying seats in legislatures and the executive?
There's a preliminary question to be asked: Has black power been built in Mississippi? I don't think so. There are lots of black politicians, but for the most part they are mainstream Democrats.* There needs to be a black equivalent of the Tea Party to hold black elected officials accountable to deliver a quality education and economic justice program. Without that, you can change the color of those who hold political office, and that's a good thing, but you won't address the daily living issues of everyday black people. Of course the same thing is true for low income Latinos or any other group that is marginalized both on the basis of race/ethnicity and economic justice.
So the first Mississippi step, from my point of view, is building real, as distinct from rhetorical, black power—power rooted in the lives of the vast majority of black people in the state. When you do that, electoral participation is one of its expressions. Equally, if not more, important are direct negotiations with powerful institutions like major employers (private, nonprofit and public), school districts, developers and others. When you don't get respect at the negotiating table, you use the tactics of disruptive non-violent direct action, strikes, boycotts, corporate campaigns, public shaming and anything else you can come up with. You engage in people power lobbying—thousands of people descending upon the state capitol to push a legislative agenda forward. Another important dimension of power is to create alternative institutions like worker- and consumer-owned cooperatives. Serious black power would support unionization of low-wage workers in the state, if not engage in workplace organizing itself.
In fact, when you build such power you can get statewide power without having electoral majorities. Whether to participate or not in any given electoral contest then becomes a tactical question: can we elect someone qualitatively better than the incumbent? Can we hold him/her accountable after winning an election? What's the cost/benefit analysis of allocating our time and energy this way compared to, let's say, a boycott?
From a different slant, Congressman Bennie Thompson, the African-American representative from the Delta's 2nd Congressional District, had some interesting things to say at the reunion: he bemoaned black politicians who want safe districts (80+% black voters) when by spreading their constituency into adjoining districts there would be the possibility of electing more blacks while retaining their own seats. He noted that a number of elected black politicians aren't really representing the interests of those who put them in office, and indicated the need for effective organizing to hold them accountable. He is one of not-too-many politicians who understand the necessity for independent organization at the base. On the other hand, the black elected officials who want safe seats often enter into unholy alliances with conservative white Republicans who are only too happy to isolate the black vote.
Sadly, Chokwe Lumumba, the recently-elected mayor of Jackson, died before he could implement what promised to be an economic development and justice program. Bob Moses calls him a "Fannie Lou Hamer Democrat."
SNCC was an organization of organizers, or so we thought at the time. With the sometimes-diverging guidance of people like Ella Baker, Bayard Rustin, Myles Horton and a few other older veterans of the struggle, we did amazingly well and accomplished extraordinary things. But we really didn't know how to be an organization of organizers. And our own internal divisions prevented us from figuring that out. One of my hopes at the time was for a relationship between SNCC and Saul Alinsky, who I went to work for after four years on the SNCC staff.
For a very brief period in the mid-1960s, Stokely Carmichael and Alinsky discussed the possibility of a relationship. They shared a platform in Detroit that was originally billed as a debate on black power. Alinsky said, "If you came here expecting disagreement, you're in for a disappointment. We don't go into a black community and come out at the end with pastel power." The relationship did not develop. The field of community organizing still needs to explore ways of pulling together different strands of thinking and practice in order to maximize the people power it promises to deliver.
"An old story comes to mind: a union organizer in a deep-south state was organizing a factory where whites made $2.00 and hour and blacks made $1.00
Is such a failure because there is no white bloc of voters or historical white actors who can be allies?
There was a brief period in Mississippi during the mid-1960s when SNCC supported a poor whites organizing project. There are examples in U.S. history where parallel organizing of whites and blacks led to unity among them, and greater people power than either might have had alone. I think a pre-condition for such an approach is the kind of black power organization I describe above.
So let's assume you've got that. Two approaches are usually put on the table. One is to woo white "moderates". While important, on the major poverty-related and economic justice issues I do not think it is sufficient—for two reasons. When these moderates do enter alliances with Democrats, it is typically with "corporate Democrats" and they will not entertain the kinds of proposals that are necessary to address black poverty, poverty in general, and the growing gap between the wealthy few and everyone else. Further, the black Democrats who pursue these alliances are, themselves, unwilling to engage significantly with black poverty. The policy options required to address poverty are now beyond the narrow frame of "realistic" politics in the country. That means major demand "from below" will have to push this agenda to make it realistic.
Another place to look for a break in the now-racist white bloc is at low-to-moderate income whites who view race as a central part of their identity. An old story comes to mind: a union organizer in a deep-south state was organizing a factory where whites made $2.00 and hour and blacks made $1.00. He said to a white worker, "If you have a union, you can both make $3.00 an hour." "Yeh," the white worker replied, "but then I'd be making the same as the nigger."
But there's another, and opposite, story as well. A 1930s union organizer told me this one. A white worker he was trying to interest in the United Mine Workers said to him, "Ain't you the union let's in the niggers?" The organizer pointed to a nearby black worker and this exchange followed:
In the recognition election, the UMW won. It took white worker votes to win.
You don't have to go back to the '30s to find similar or hopeful stories in this regard. In the late 1960s, former SNCC field secretaries Bob Zellner and Jack Minnis worked in the midst of a strike at the Laurel, MS Masonite plant in which whites struck and blacks scabbed, and had encouraging results. Dottie Zellner wrote the story up. Both Dottie and Bob were at the reunion. As far as I know, no one asked them to discuss this experience.
Fannie Lou Hamer's earlier described pig coop is another example. That experience is written up in the biographies about her. My understanding is that she was respected and loved by poor whites and blacks.
White Pentecostal coal miners in West Virginia leveraged their status as part-time "jack-leg" preachers to get Pat Robertson, hardly a pro-union clergyman, to endorse a strike. Latino Pentecostals are increasingly engaged in the immigration rights movement as they see the consequences of Obama's present deportation policies for their member families.
When you start looking there are lots of examples. But you have to look. Historically, Mississippi white Democrats were divided between racist populists and racist plantation owners and their supporters. The former really hated the latter. But they hated blacks as much, if not more. If you start with the premise that this can't be changed, you won't change it.
There's yet another dimension to this. In my SNCC days, it was not uncommon for a field secretary to speak of "crackers," "honkies," or "rednecks." African-Americans who would never utter the negative terms "spik," or "kike," and for whom "nigger" (except when used among one another) was a fighting term, thought this negative was o.k. Indeed, it often got a chuckle. Why is that? And can we use the understanding we get from looking at that to look at poor whites? I think so. People want to be "ok." If to do that they need to be better than someone else, they will. And the someone else is typically lower on the status pole than they are. The reason for that is that those lower are also more powerless. They can't effectively strike back. It's risky to say things like that about the more powerful; they can hurt you.
What is the potential for an alliance of people of color and poor whites in southern states? How do you build it? What are the issues?
The potential for true majority constituency alliances, so long as constituent parts have their own power to protect their own particular interests, is vast. We have to look back to the industrial union movement of the 1930s to get a glimpse of what that might look like.
In a period like the one we're now in, it's built patiently, piece-by-piece, no magic just careful organizing. We're now swimming upstream when we try to build people power. Periods of social movement, on the other hand, are magical; you're swimming downstream. You can't keep up with the demand for organization. That existed in the 1960s in the black community. It appeared in the immigration reform movement recently, and maybe is still there. I'm not close enough to know.
As to the issues, beware of magic bullet single-issues. You learn the issues by listening to the people. From an organization building point of view, you need lots of little but meaningful ones because those can be won by guerrilla bands—which is what you start with. When you have a standing army (sorry about the military metaphors, but they're easy and graphic), you can fight bigger battles. But the big battles can also wear you down and send your people back home to their TVs and private lives. (Use as title above photo)People have too many experiences of powerlessness, and not enough of collective power. It's the latter that build for the long run.
In Mike Miller's third piece on The Movement and legacy, he asks: "What makes you think we (California) have Latino empowerment?"
For further reading: The New Racism in The New Republic
After a weekend of last minute haggling and prolonged negotiations, a settlement of the Market Basket dispute was announced Wednesday night bringing to a close one of the most dramatic and inspiring labor struggles in the United States in many a year. The settlement was not immediately about wages or benefits or job security language. These employees don't even have a union! The settlement was about who would be their boss and CEO. In a highly unusual management-led action, they paralyzed the company's 71 stores and promoted a devastating consumer boycott to get previously fired CEO Arthur T. Demoulas back and they won.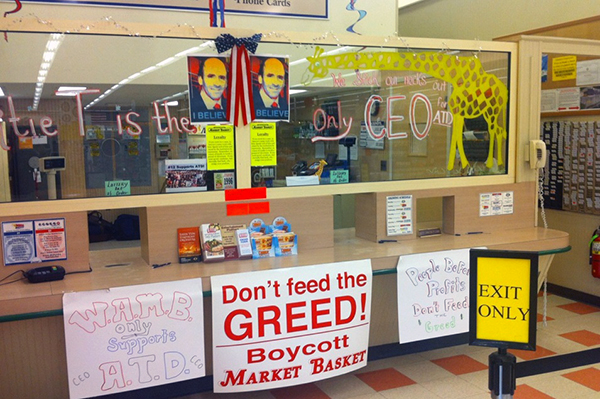 Most of the 25,000 workers from part-time checkers to big shot regional managers will be returning to work immediately. In fact, during most of the dispute, most of the checkers and in-store personnel worked, converting their stores and parking lots into protest platforms where the few remaining customers were engaged in intense discussions about the MB dispute. Where once the walls of a store were adorned with promotional ads, now they were decked-out with signs extolling the virtues of "Arthur T." and their desire to maintain his business model over his cousin Arthur S. The strike was a strategic one by a combination of key workers in trucking and warehousing and top and middle managers whose industrial actions prevented any perishables from reaching the stores. Market Basket became nothing but a big dry goods chain.
Threats of firing and numerous "drop dead" days for employees to return to work came and went, virtually ignored by the workforce that was out. The power of a united and strategic workforce acting forcefully with broad consumer support rocked the whole of Eastern Massachusetts and its 30 stores in New Hampshire and Maine.
Would the workers have been better off in a union? Yes, of course. There is no substitute for the power and voice that collective bargaining provides for workers. Yet, the great irony here is that if Market Basket workers had been in a union, it's nearly impossible to imagine them striking to restore their fired boss and defeat the Wall Street business model of his cousin Arthur S. A no strike clause and the narrow post WW II vision of our labor unions would surely have prevented that.
We should also point out that warehouse and trucking is usually with the Teamsters in unionized grocery stores. Often the decision to respect UFCW picket lines is not always forthcoming or impossible because of contract language.
An NLRB charge was filed by several employees arguing that the company's threats against them constituted a violation of their Section 7 rights to protest and redress their "wages, hours and working conditions." If a settlement hadn't been reached, a National Labor Relations Board Administrative law judge would have had to rule on whether the discharge of the CEO constituted a "unilateral change in working conditions!" The employees certainly saw that it did — and put their own lives on the line because they saw their own conditions inextricably bound up with who was their CEO.
Below are some lessons from this extraordinary struggle that we draw for the rest of the labor movement:
● Not all workers pack an equal punch – Strategic workers in trucking and warehousing are crucial to interrupting the flow of goods, particularly perishables. Current labor laws (especially in the private sector) exclude many of the most strategic workers making meaningful strike activity much harder.
● Management rights are workers' rights – Unfortunately not since the UAW's Walter Reuther has the U.S. labor movement sought any real say over operating and management decisions. Instead, we've surrendered to the narrow "management rights" clause written into virtually every union contract. Yet, these decisions, as the MB workers demonstrated, are crucial to the livelihood of workers.
● A real strike stops production – Campaigns at Wal-Mart and in fast food have called the exit of a handful of workers from stores and fast food outlets "strikes." But most have failed to stop production. Market Basket workers (management and labor) engaged in a true "strategic strike" and the camera shots of empty shelves and empty stores were a compelling image that needed no virtual enhancement or Facebook 'likes' to be real.
● Community support is key – The depth of support in the massive boycott where customers taped their receipts from Stop and Shop, Whole Foods and Hannaford's to the windows of Market Basket was an essential part of the victory. For many customers this was a deep hardship, but the passion and energy of the workers and Market Basket's low prices underlay consumer's commitment to stay away until victory.
Union or "not-yet-union," one fundamental lesson is that there are no shortcuts to deep organizing at the point of production. Labor strategists and organizers who are impatient with that process and believe that social media and corporate leverage can substitute for the basics are doomed to failure.
Following this monumental struggle, Market Basket and its workers will never be the same. To reach a settlement, Arthur T. enlisted the notorious private equity firm, Blackstone Group to buy one third of the company. As a result, the Market Basket culture and its manager's paternalistic practices may significantly change. Meanwhile, Market Basket's workers expectations have never been higher and the sense of their power – even without the managers' support – can't be denied. The vast majority of workers are part-time and low paid. The UFCW is actively reaching out to enlist support. Stay tuned because there is undoubtedly much more to come!