When Mass Machine closed and ran to Nashua, New Hampshire in 1975 I assumed new duties as the District Organizer for the political organization that I was a member of. The duties of the "DO" included travel throughout New England meeting with comrades in Rhode Island, Connecticut, New Hampshire and Massachusetts. Every month I would Greyhound to the Big Apple and huddle with leaders of the organization from throughout the Northeast. Those regional meetings usually consisted of the leaders from NYC barking signals at the rest of us about how to carry out the work. I felt a little of the Red Sox -Yankees rivalry polluting my perspective on the imperial directions from the New York comrades whose work had seemingly more scale and grandeur than ours.
When our organization fractured and split in 1977 it was time for me to stop being an "organizational man" subsisting on cheesesteaks and glazed donuts, smoking two packs of Marlboros per day and ballooning to almost 300 pounds. It was time to get in shape and go back to work in the factory. To get in shape I remember going to the gym in East Boston where I was living and using the upstairs balcony, which circled the basketball court as my jogging spot in the winter. To run a mile you had to do 22 laps. My first time out I could barely walk one lap without huffing and puffing and exhausting my 26-year-old body. As for work…..
My friend and comrade Bruce had been working at the Advent Corporation since 1974. Advent was the creation of Henry Kloss of Cambridge Sound Works, AR and KLH fame. The company produced quality loud speakers for stereo systems and was a pioneer in the development and manufacture of the first big screen TV's. In fact, in the fall of 1978 I watched on a big screen, with the rest of the Advent work force, as Carl Yastrzemski popped out to end the one-day play-off with the Yankees that entombed the Red Sox season that year.
Advent was located on Albany Street in Central Square, Cambridge Massachusetts, right down the street from my first employer, NECCO candies. Advent had been "salted" "industrialized" or "colonized" by almost every stripe of Maoists and non-Maoist political organization. In short, the place was full of young Reds working side by side with the largely immigrant Italian, Haitian, Puerto Rica, Azorean, African American and ethnic white work force. That made for some sharp political engagement. Did African-Americans constitute a "Nation of a New Type"? Which Eritrean revolutionary organization had the correct line? The correct position on the Angolan liberation struggle was debated in the lunchroom and dueling newspapers were sold at the entrances to the facility. Interestingly however as I was to discover there were several workers who had actually fought in the Portuguese imperial army whose defeat in Angola, Mozambique, and Guinea Bissau led to the end of the Salazar dictatorship in Lisbon in 1975. So beyond the paper intellectual wars there were real discussions with real combatants who had been shaped, as were Vietnam vets, by their experiences on the ground.
While it may seem obvious that the stage of struggle in a non-union plant is to organize the workers into a union, …"
Another comrade, Barbara, needed work also, and we wanted to see if we could build on Bruce's base and stature in the facility. We started work in the late spring of 1978. Bruce had been there long enough and won friendships to the extent that he had his own "apodo" in Spanish. His nickname was "Gallo" or rooster because of his physical bearing and his aggressiveness in dealing with supervisors. Steadfast in his defense of fellow workers Bruce was suspended by the general supervisor of the loudspeaker division for 5 days, April 27 – May 1 1978, for speaking up for a woman injured on the assembly line. 21 workers walked out in support of Bruce and were also suspended for three days. While Bruce and the 21 would later recoup their lost pay in an NLRB settlement in November later that year, the working conditions were steadily deteriorating. Many pointed to the fact that Henry Kloss, viewed as a beneficent and brilliant owner, had sold out control of the company to industrialist Peter Sprague of Sprague Electric in 1976. Sprague had made a name for himself by acquiring National Semiconductor and the British firm Aston Martin of James Bond 007 car fame.
When Barbara and I arrived at Advent we immediately formed a strategic collective with Bruce to guide our work. Looking back I am both impressed and astonished at the deliberate and meticulous approach we took to our work together. This is almost 20 years before the widespread use of word processing, and we typed a 6 page legal sized, single spaced sum-up of 4-5 months of work. This "Sum-Up of Advent Work" included the following sections:
1. Key points from the past history of the Company
2. Present stage of struggle – Organize the Unorganized
3. Task of this Stage
4. Advances in the Period
5. Key Questions for the Future.
While it may seem obvious that the stage of struggle in a non-union plant is to organize the workers into a union, this was not always the "center of gravity" for young Reds. Sometimes a campaign to stop a death sentence in Louisiana was made primary over the ongoing issues of economic exploitation and injustice in the factory itself. We sought to correct that approach which we characterized as "left infantilism" and projected our tasks as the following:
1. Expose the Company's nature
2. Build struggle against the company
3. Tighten up the advanced as organizers
In our sum-up we said that; "To accomplish these things we set a line that we would bring out a workers' newsletter, On the Line. This would be a militant and hard hitting graffiti and gossip sheet"
On the Line was a monthly publication, which carried news of the goings on among the 600 workers at Advent. We even published worker's poetry like these prophetic lines:
ADVENT'S HISTORY
The first day you start
They treat you so pleasant
If you last out the week
You are considered a peasant
You work so hard
To make ends meet
And all you have to show
Are two blistered feet
So you ask for paid sick days
And all you get is a laugh
They give you an excuse
That would make you baugh
If you let them do this
Without a fight
Then you don't know the difference
Between wrong or right!

The poem was a set-up piece for a battle for sick days launched in October of 1978.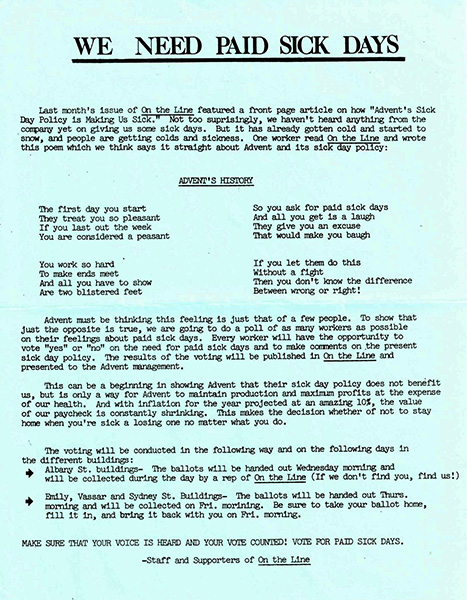 Our strategy and tactics took into account the need to ratchet up the pressure, and we employed a company-wide ballot to poll the workforce about their wishes. The ballot was published in Portuguese, English, French, Spanish and Italian. The balloting result was 237 Yes and 3 No. The results were presented to Personnel Manager Art Stewart by a delegation that marched on his office on December 15th. He declined to receive the results telling the workers to go through channels by talking to their supervisors. As a result department-by-department delegations were organized. Even without a union the workers at Advent, partially because of their home country experience, were ready to engage in militant actions. Marching on the boss was not an uncommon practice whether as a whole plant or by departments. Perhaps the most militant workers were the Haitians who had emigrated from the most impoverished country in Latin America and were only too conscious of imperialism and the comprador role of the brutal Baby Doc Duvalier dictatorship. Our focus and activity was on tapping these revolutionary spirits and, with them leading, building broad unity around the "center of gravity", day to day battles on the shop floor.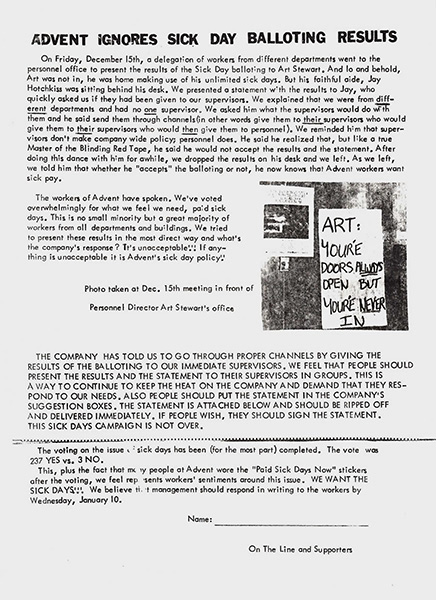 We also set out to ally with the community struggle against styrene poisoning. Styrene was the substance that was used in the building on Emily Street where the big screen TV screens were manufactured. For a longtime the community, led by the Cambridge port Alliance and resident Bill Cavellini, had been agitating against the styrene effluent, which was polluting their neighborhood. We met with Bill and began to communicate the concerns of the community in the pages of On the Line.
What care and effort was spent on the minutest of details! In summing up a party we held prior to the launch of the sick day campaign, we noted that, "Even Carmela Calhoun of the fascist caucus brought her hot peppers to work the day before the party. Talk in the shop flew around Santos' salsa tapes and to who was going to get first dibs on Ernie's ham hocks. Big Nick, the Hitter, came forward to tend bar and personally sold 20 tickets in advance for the party." This is the richness of real face to face, "mano a mano" organizing that is required to move groups of workers. Our conscious deliberate approach was beginning to reap benefits.
But in an ominous development both Barbara and I were laid off in November of 1978 along with fifteen other workers. At the time this was seen as a seasonal occurrence and did not affect our battle plan around sick days. We were wrong; it was a warning sign of big doings afoot.
Olney Odyssey #15 – New Hampshire Strikes Again!