Passengers disembarking from luxury cruise ships at San Francisco's Pier 27 will be greeted by radical commentary on unemployment, housing shortages and racism delivered in multi-media and interactive fashion by a wonderful piece of public art, called the James R. Herman Memorial Wall Sculpture. The whole terminal is dedicated to Jimmy Herman, a legendary San Francisco leader who was President of the International Longshore and Warehouse Union (ILWU) from 1977 until his retirement in 1991. Herman had big shoes to fill. He succeeded the legendary Harry Bridges, a founder of the ILWU and its 1st President who served from 1937 until 1977. Herman did not live in Bridge's shadow however when it came to oratory and his vision of the ILWU as part of a broader labor and people's movement. He had a powerful voice and delivered compelling speeches in three-piece suits wearing his trademark coke bottle thick glasses.
On the evening of March 26th a ceremony was held in the new cruise terminal to dedicate the wall sculpture. Tides of Change was unveiled to the public by a cast of labor, political and community dignitaries headlined by ex San Francisco Mayor Art Agnos, who led San Francisco through the trying times of the 1989 earthquake and who was a tenant in Herman's house on Portrero Hill when he first arrived as a young man in the city decades ago from Springfield, Massachusetts. Tides of Change is a multi-media exhibit with interactive video and film that profile Herman's life in labor. The surface is an undulating wave that carries some of Jimmy's most memorable quotes in neon lights: "Racism runs deep in this country. We must be committed as a union in the struggle against it."
I can only imagine an elderly retired couple from Middle America coming down the escalator after leaving their cruise and being confronted with Herman's social commentary. To paraphrase Dorothy, "We are definitely not in Kansas any more!"
The exhibit is designed by an art collective based in Brooklyn New York, Floating Point. The artists are Genevieve Hoffman, Jack Kalish and Gabriella Levine. Their work needs to be seen by all San Franciscans and all visitors to the well-traveled Embarcadero. It is one of the most stunning examples of political public art that I have ever seen. It is on a par with the Museum to the Martyrs of Liberation in Algiers, which I visited in October of last year.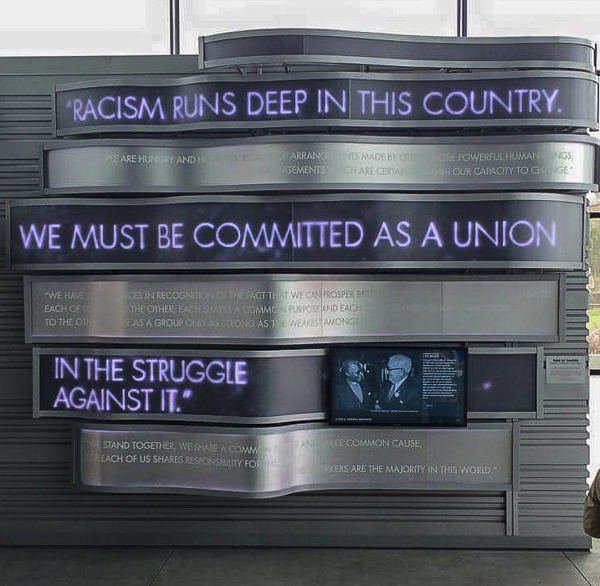 We however have a problem. The exhibit is inside a cruise terminal that is only open when a cruise ship is in, and then only to terminal workers and cruise passengers. The Port of SF also advertises the facility for public events; mostly corporate galas also not open to the public. The Port of San Francisco needs to open this art to the public with a regular schedule. It is too critical to the education of the SF populace. The origins of the City as a Port city not a high tech playground need to be understood and the inspirational life of James "Jimmy" Herman cannot be forgotten. Visit Pier 27 to see the exhibit and if it isn't open call your County Supervisor so that we can get regular hours and public access.
Jimmy Herman Presente!!! Open the Exhibit to the Public!