The henna tattoos are fading from my hands but the enchanting memories of my recent trip to India are not. The blurring henna is a reminder that I spent seven days in the exotic state of Rajasthan, and the city of Udaipur, the "Venice of the East" as it is known in India. Family and friends had gathered to celebrate the "love marriage" with all the ceremony of a traditional "arranged marriage" of our young friends from "the East," the bride from Mumbai, India and the groom from Boston, Mass.
There were many unforgettable moments. The groom travelled by elephant, a traditional custom, with both families as his entourage to greet his bride. The bride was lovely and stunning four days in a row as she greeted her blushing groom. Also, there were the larger than life palatial venues such as the City Palace, a fusion of Rajasthani and Mughal architectural styles where the Sangeet event, traditionally the bachelorette party was transformed into an international talent show. In contrast to the epic wedding there were local village scenes that were so mind-twisting I thought my eyes were playing tricks on me. These were visual images that at first glance didn't make sense. Images so raw they moved my heart and awakened my soul.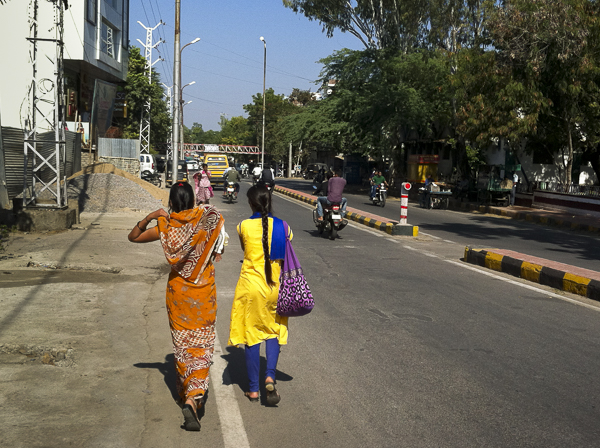 These were the women who lived and worked in and around the Pichola Lake Village. Draped in a neon colored or print patterned sari unique as every woman was elegant and beautiful. The fluorescent hues were as stunning as the dark side of women's forecasted future was bleak in this male-dominated society.
Not once in the seven days did I see the same sari or combination of sari fabric worn. It was as though each sari was created for each of the 600 million plus women on the sub-continent, including women performing hard physical labor. Yes! Women toiling at work digging ditches waist deep, laying bricks, or maintaining streets were wearing beautiful saris. Eye-popping fluorescent greens, yellows, oranges, reds blues and hues of every shade. And different combinations of fabric, such as silk, chiffons, cottons, crepe georgette and bold prints gave new meaning to "brilliant" and "style".
While I felt sheer terror thinking that I was going to die riding in an auto-rickshaw, it became apparent how relatively "safe" I was compared to the women working in the streets. As they worked in the trenches, there were no orange cones to alert the chaotic traffic that there were WORKERS AHEAD! It was easy to imagine women being maimed or accidently strangled by flowing cloth. Work, women's work, dignified work; women laboring and thriving in beautiful saris.
When asked why women wear saris when doing hard physical labor, a young woman retail worker said that it is customary to wear them no matter what a woman's occupation. In the same conversation she mentioned that wearing the sari was not without controversy. When worn traditionally, a portion of the woman's midriff flesh is typically exposed thus potentially inviting male sexual advances. In addition, desirable or not, the 6-9 meters of fabric could become a hazardous liability even "life threatening" in a tangled domestic dispute. In a society where the mortality rate for young girls 1-5 years old is 75% higher than young boys- how much more dangerous can a sari be?
Having been instructed on how to wear my own sari, I could relate to it fitting as tight as a lover's hold. Elegance notwithstanding, its tightness can be stifling, cumbersome and somewhat oppressive! The sari wraps over and around a fitted waist-to-floor petticoat that matches its color. In addition, there is a choli, a tightly fitted short blouse worn under the sari that dates back to the 10th Century. The sari colors, prints and degree of rhinestone dazzle are a matter of the taste and desire of the buyer. Last but not least are the many safety pins. These magically hold the yards of pleated fabric strategically together with the effect being the ultimate in grace and dignity.
The little time I wore the sari and watching women manage them taught me how attentive one must be, especially newbies. My anxiety prompted a nightmare in which I dreamt my sari did unravel like a spinning top with the first misstep while dancing. Imagine my surprise when a party sofa collapsed underneath me the very next night. Later when my Son told me I had landed as gently as the sinking Titanic, I was secretly pleased I hadn't worn my sari that night!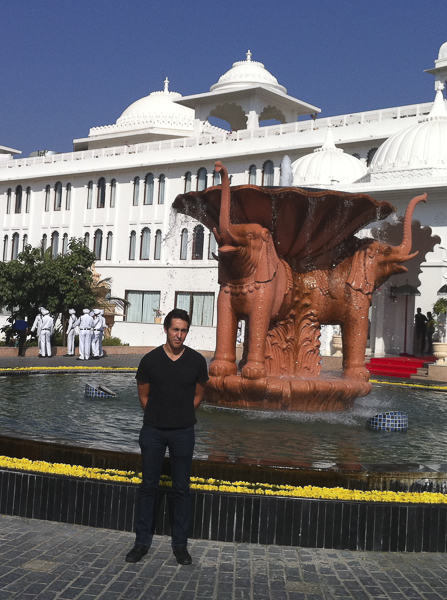 However, the most unforgettable memory was the visual contrast of luxury inside the palace hotel compared to the squalor and poverty outside the hotel walls. I imagined this is the type of contrast that Siddhartha Gautama, the historical Buddha from the 5th or 6th century BC must have seen when he ventured outside his palace walls. Siddhartha was a young prince, forbidden by his nobleman father to go outside the family's palace, ever. As might be expected this unreasonable demand fed his natural curiosity even as a young child and he eventually rebelled and secretly leaves. What he discovers is disturbing, confusing, and exciting. He is witness to suffering heretofore unknown to him, and chaos, or is it chaos? Profoundly moved by what he sees, feels, whom he meets and what he learns Siddhartha renounces his birthright and begins his spiritual journey of self-discovery.
As we journeyed into the Pichola Lake Village in the "Tuk Tuk" (auto-rickshaw) for the first time, the comparisons between the palace hotel and shanty dwellings were obvious- The Third World abutting The First World.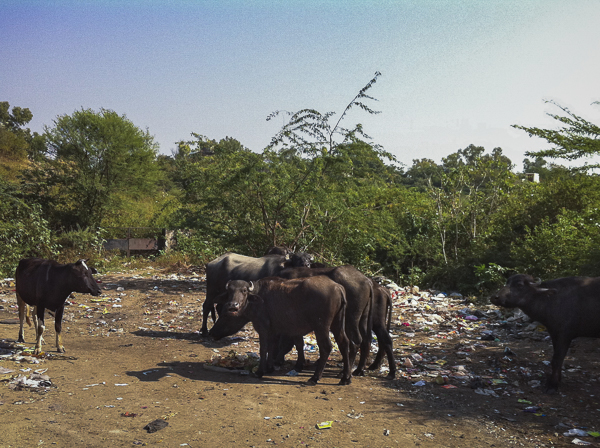 The contrasts in India are like that, starkly black and white with opulence up close to devastating poverty, sleeping side-by-side, dependent on each other, and their unequal embrace. Inside our pristine palace hotel were Olympic pools, a luxury spa staffed by cheap labor from Bhutan, doting staff, abundant Indian cuisine, and sprawling manicured grounds. Outside there were cows and bulls eating from heaps of foul smelling trash dumped on the side of the road as dogs lay sunbathing on the same fly-ridden waste. Mounds of plastic-riddled trash were being burned within feet of huts, shanty's, open-air markets, and pedestrians without apparent concern for citizens being exposed to the toxic smoke and gases. There was human and animal waste on the streets and the water was rarely potable. Drivers were shooing begging children away from our Tuk Tuk . These were children whose vacant eyes, bare and swollen feet, and open palms betrayed their caste and fate in life.
Outside the palace hotel was a breathtaking and totally sensual experience, inexplicably alive and resilient yet juxtaposed with the sobering realization that the crushing disparities between the haves and have-nots are very much alive in India.