On January 4 Christina and I returned from our 4 month epic adventure living in Florence and traveling all over the Italian Republic and managing side trips to Dubai and Greece! It is good to be home and back with our son Nelson Perez-Olney and both our extended families, comrades and friends. I told my Italian friends that the reason we were going home was to work on flipping the House of Representatives to the Democrats in November of 2018. Only then, I promised, could we return to Italy. We have work to do…but we can do it!
What kind of baggage political and other wise did I bring home from Italy? In this case the metaphor works. Christina and I traveled to Italy with one checked bag and one carry on apiece. After four months in Italy we sent home 14 boxes packed with mostly clothes, books and written publications and magazines! WOW! "Dio Buono" as the Italians might say politely! I still can't explain this phenomenon, but the act of mailing the boxes using the Poste Italiane and the act of receiving the boxes via USPS deserves a telling.
Da Firenze
In anticipation of our return I began the process of interacting with Poste Italiane on December 11 by toting 2 full and big cardboard boxes from our house in Piazza Tasso to Via Lorenzo Bardolini near the Arno in our neighborhood of San Frediano. The post office is right next to a silk factory – "Il Setificio Antico Fiorentino"–, which is still in operation and has its origins in the Renaissance.
Outside the Poste Italiane there is an automated machine (what we would call an ATM) but it is a Postamat for Italians to access at all hours for cash, credit and bill pay among other services.This is because the Poste Italiane, a state enterprise with 40 percent private investment offers a myriad of services to the Italian public: banking, insurance, bill paying, credit cards, telephones and of course mail. Therefore when you enter the lobby you pull a number for the service that you want: Spedizioni, Finanzi, Pagamenti etc. Then when your number is up over the appropriate "Sportello" you begin your interaction with a postal clerk. On December 11 I interacted with Clara at Sportello #1. She was very kind in explaining to me that there were no proper forms available for international delivery and that they were on order. I would have to come back the next day when the "schede" arrived. She did explain that even on a slow boat (that would take 30 plus days) the cost was going to be considerable: 5-10 Kilos – 60 Euros, 10-15 K's 75 and 15-20 – 90 Euros. A both heartening but disturbing posted notice in the lobby explained that Poste Italiane might be subject to strike actions between December 15th and January 5th. Good to see the Italian labor movement flexing its muscles, but not at a good time for "viaggiatore Pietro"!
I returned the next day and "le schede" had arrived and I dutifully filled them out. This time Laura waited on me and sent the packages on without any hitches. I have learned not to create hitches by questioning any of the procedures at Poste Italiane. If the clerk decided to label a box incorrectly as to weight and number of items on the manifest I ask no questions. A year ago the packages had arrived safely in the USA from Rome, and I knew the same would be true for this mailing. One interesting sidelight was that the number of "schede" that Laura had would not be sufficient for my estimated 12 boxes. When I asked for more they suggested that I go to another office. So off I went to the Via Senese office outside the Porta Romana, still in our neighborhood. I got the "schede" and was able to mail my boxes out with Laura and Clara! No strikes occurred, and in fact when I asked the employees about a strike, they claimed no knowledge of such an action and asked all their colleagues who also said they knew nothing. My Italian was fine for everything. The only challenge was when my hearing aid died, and I was left having trouble distinguishing words; a nightmare when speaking a foreign language.
San Francisco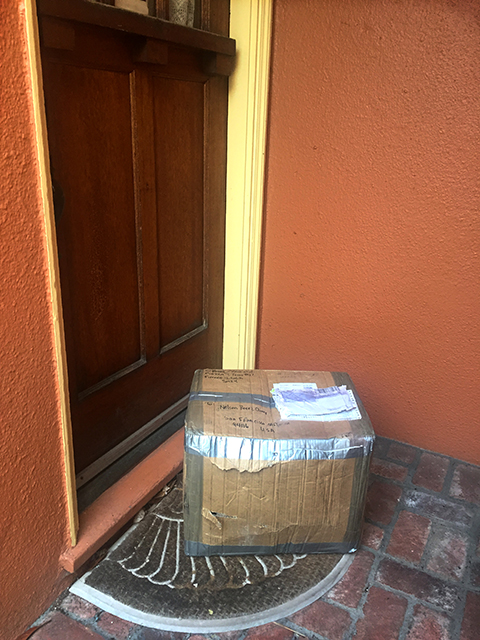 The boxes started arriving on January 16th at our home in the Sunset District of San Francisco. This was about a month out from our first mailing and the predicted time via container ship. If I happened not to be at home when the driver from USPS showed up I went to the Taraval Station to pick up the packages.
This station is one of several stations serving the Outer Sunset, a neighborhood that is 60% Asian. The clerks are almost all native Chinese speakers. The service is excellent, and they explained the situation with my boxes simply and coherently in heavily accented English. However when the clerks spoke amongst each other I was in a foreign land, lost because I couldn't speak Cantonese. So the tale of two post offices is that in Italy I understood the primary language, in my own post office I did not. I celebrate this and only wish that I could speak Cantonese because I can imagine the world that would open up to me. In fact the one neighborhood in San Francisco that reminds me of our Italian neighborhood for street life and banter is San Francisco's Chinatown. People milling about in public markets and cafes speaking with friends and family…Seems like San Frediano except in Cantonese not Fiorentino.
Both post offices are often reviled and criticized by their citizens. I happen to be a big defender of the PO in this country given the stresses and duties placed upon them, and in terms of delivery times they are far more reliable than Poste Italiane.
I can't imagine however finding a post office in Italy where the principal language is anything but Italian. Italy relative to the United States is a very homogenous country. The immigrant population (born outside Italy) is estimated to be 14 %. Yet and still the hot topic in Italy leading up to the national election on March 4 is immigration, an issue that the Right is playing very unashamedly ala Donald Trump.
My next installment will be on Italian immigration issues and what if any lessons they hold for our battles here in the USA. We are bringing our baggage home……
A presto.
•••