"I had been hearing contradictory stories from local Florentines about lampredotto regarding its taste, texture, quality, cleanliness, and even the people who bought it and made it!"
In Southern California, El Monte to be exact, I grew up eating with abandon hot, spicy menudo, tripe soup. My dad, David E. Perez, had the well- deserved reputation in our large extended family as being perhaps the best menudo "cocinero" in our menudo-loving brood. And for good reason. Dad was a perfectionist when it came to preparing this popular Mexican dish. As with any great cook, his process started with buying the best ingredients from the Mexican butcher: clean honeycombed, or flat chambers of the cow's gut, chunky marrow bones for added flavor, dry but fragrant oregano, hominy corn, yellow onion, and hot red chilies which produced the spicy sauce that made his menudo blood red.
The next part of the process is what Dad said made his menudo the "best." The cubed white pieces were cleaned and re-cleaned, and soaked in water and onions until he was satisfied that his manual scrubbing and soaking had removed all "organic" material from the bite-sized chunks. No matter the amount of cleaning, when menudo is cooking it has a signature aroma that takes over the environment; it is the gut cooking after all. You either like the fragrant touch or you don't. But, like Dad, some of us at home got excited when he got into gear and created his hearty menudo masterpiece, smell and all! Dad didn't need an excuse like "the cruda" (hangover) to make this meal, but a cold or rainy day might stir him into action. Within hours, large bowls around the dining room table, a set of relatives dropping in to partake, a stack of hot corn tortillas, fresh chopped onion, cilantro, dry oregano, lime, dry red chile peppers, and beer, "Orale"- lunch was served. And what a lunch it was!!!
So it was when Peter and I were driving home on the cold rainy strada from Piazzale Michaelangelo in Firenze with our friends Marinella and Franco that we all made a beeline to the nearest trippaio to chow down on the Florentine favorite, lampredotto, or the so-called "last stomach" of the cow. Up until that moment, I had not been able to wrap my head around the idea of eating this "delicacy" despite having grown up eating "guts" up to my ears, so to speak. In the months being in Italy, I had been hearing contradictory stories from local Florentines about lampredotto regarding its taste, texture, quality, cleanliness, and even the people who bought it and made it! Not an anti-immigrant statement, but a not- so-subtle dig at families with limited means who could least afford the best cuts of meat. I think what felt like uppidity and snobby attitudes finally turned my head "ma dai", or "come on!" In an instant I realized, lampredotto and menudo are like sorella e fratello (sister and brother) along the stomach chain- che vuoi che sia", what's the big deal? The biggest difference is that lampredotto meat is darker than menudo and it is the last stomach of the cow, or as put by our food guide a year ago "the last stomach before air escapes the cow's body." You get the picture.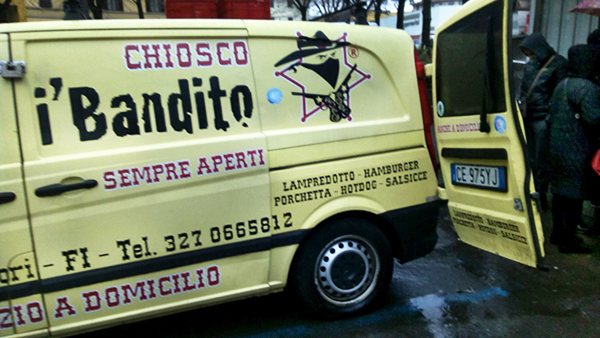 Like menudo, lampredotto, requires focused scrubbing and soaking before being boiled to a tender consistency and chopped much like the tender, juicy pastrami that Americans have grown to love. i'Bandito, the trippaio at Piazza Pier Vettori in the Zona Ponte alla Vittoria did not disappoint. An eclectic tripperia, i'Bandito also made hamburgers and paninos. The menu featured specialties with names well known to Americans – "Billy the Kid", "Jesse James" and "Calamity Jane". We chose to wolf down the "Davy Crockett", which was a hollowed-out panino (a fist-sized crunchy bun) ladled with hot, juicy lampredotto brood (juice) followed by mounds of hot chopped lampredotto meat, fragrant green salsa picante, optional greens, sal and pepe, and a bichiere (glass) di vino rosso to top it off – bravissimo! The large palm-size treat took about five bites to finish off, and each bite-ful was tender, spicy, hot, juicy and molto delicioso!
As I watched the trippaio prepare lampredotto for other customers, I was reminded of the cuts of meat my eyes feasted on when shopping with my Dad for tripe at his local butcher. Like the Mercato Centrale in Firenze, Dad's butcher had the tripe and the necessary ingredients and required contorno for the finished product close at hand. Looking back however, Dad's local butcher was poverty stricken in comparison to the variety of body parts sold by butchers at the large Mercato Centrale. For example, in Firenze expect to find every imaginable part of the animal's body sold, not least: whole chickens and rabbits with heads, spleen, pancreas, kidneys, brains, eyes, ears, hoofs, heads, thymus, lymph nodes; all the stomachs and intestines of the cow, and not to be left out, the bull's penis! Shopping in Firenze markets has sensitized me to how prudish the American "diet" has allowed itself to become in many parts of the U.S. (my own home included!).
Buon appetito!
•••