In 1952 Ken Colyer was a young would-be jazz trumpeter. His drive and determination to become a better musician led him to travel from London to the fountainhead of the style of jazz that he loved—New Orleans. He had no idea of how to make it happen or what he'd find when he got there, but his hunger outweighed the obstacles that stood in his path, and in October of that year he arrived there. Ken's remarkably eloquent letters from New Orleans give a vivid impression of how things were in the early fifties before integration was permitted. It was a revelation for the young visiting white Englishman, made extraordinary by the affection he was shown by members of the black community. This momentous pilgrimage became the catalyst for the birth of skiffle in Britain, giving the world Lonnie Donegan, and kickstarting a phenomenon which led to thousands of youngsters (amongst them Lennon and McCartney, Jimmy Page and Mick Jagger and Keith Richards) picking up guitars, making tea-chest basses and forming groups. But before getting to Louisiana, a little background from Ken's older brother, Bill…
Bill Colyer: The same way that George Lewis and the New Orleans kids who grew up with those sounds from the cradle—Ken's was the same sort of background; he'd got sounds in his head…
Bill Colyer was an obsessed jazz fan, sending off for records from the USA and hunting down jazz 78s, which in the late thirties were difficult to find. He joined the army in the early forties. When Bill was off fighting (at D-Day, and then on through France and Germany) his sister had written, telling him that his brothers were playing his records.
Bill Colyer: I get home with all this gear—your kitbag (there's your whole life in your kitbag) and your rifle and your five rounds of ammo—and I chastised Bob [the middle brother] and then I was going to belt Ken, and all of a sudden I thought, "Hold on." I said, "What records did you play?" I was knocked out. He'd done the Sleepy John Estes; he got into the blues records. The names, they're all legendary: Sister Rosetta Tharpe, Red Nelson, Champion Jack Dupree and many more. Well, it turned out that Ken had mainly played all my blues 78s, the Brunswicks and the Vocalions. What would he have been then? Twelve years old and he's already steeped in this music. He had heard them played by me—that's probably why he picked them out—but for the twelve weeks I was away, the ones he'd been playing were the blues records. What a grounding he was getting.
Post-War, Bill and Ken both joined the Merchant Navy, and travelled widely.
Bill Colyer: I'd been playing with Ken all that time in the Merch. Seven days a week when he came off duty, he went down to his cabin and practiced, played his horn. The chippie [carpenter] would be on a guitar they bought in Canada, the baker would hold his guitar and pluck the bass string and I would be on wire brushes on a stainless steel kettle and a suitcase.
On one trip, Ken landed in New York and sought out a jazz club, where he was told: "If you stick around 'til about one-thirty, Oscar Peterson usually looks in after he has finished his hotel job."
Ken Colyer: I had never heard of Oscar Peterson, and I doubt if anyone else had in England at that time, as he was a Montreal boy and about the same age as myself, around nineteen. I was sitting sipping my beer when a man came in wearing an expensive-looking gabardine. The barman knew him and they started talking. The man did most of the talking. From the gist of the conversation it appeared that a gang were after his blood. "I've been to the police for protection but they won't. So I've brought my own protection." With this he reached inside his coat and produced a .45 automatic. The bartender quietly said, "Now put that away and calm down. They are not going to come for you here." The man said something else and left. Time went by and they opened up upstairs. I went up and sat at a table and ordered another beer. Girls began turning up—they were dancers in the floor show. A slim, dapper, well-dressed Negro arrived. "Snookums!" they all cried. He was the star singer of the show. He made a dramatic entrance with the lights dimmed down and a white spotlight. It was very effective. He did some patter then went into Shine. He said he was now going to do a number that had made him famous sometime in earlier years: Brown Boy, Chocolate Boy. He was very good and got a big hand.
As I was having a drink I noticed that there was a hush in the place. A whisper rustled round the room: "Oscar's here." I looked around and then saw this giant of a Negro walking toward the bandstand. They all greeted him warmly. The pianist immediately left the piano and the front line got off the stand. Oscar sat down at the piano, looked over at the drummer and Cheekum. Then the place started to rock. He was powerful and used both hands, all ten fingers. The rhythm section was swinging superbly. As he warmed up, his massive frame leant further over the keyboard. The atmosphere was electric. "You see them fellows standing behind him?" someone said. "They're all pianists trying to watch his hands." I had never heard piano playing like it and the place was in an uproar after each number.
Bill Colyer: Ken brought a 78 back of Oscar doing two Albert Ammons numbers. Of course, he started as a boogie man, a real left hand. Ken was on leave and he and I walked round Charing Cross Road (London), where there was a load of music shops, to take this record round and rave about it, but none of them were interested. That really hurt me and Ken because by then we were deep jazzers and we'd heard this piano. We had some good piano players here, but nothing of that stature. So there's Ken, only into his teen-age, hearing all this, and he knew all the names because I would tell him personnels. I was a bible. I knew every personnel; I was a walking mine of information; that's why I ended up in that first jazz store.
Ken's trumpet playing was improving and he joined The Christie Brothers Stompers, a band that, in Ian Christie's words played "all the good places. Sunday nights in various towns where they had cinemas—films during the week, then they'd have a concert on Sunday. We were very big in Liverpool. We played the Cavern before those guys with guitars came in. Ken played the music that we thought was New Orleans jazz better than anyone we could speak of—that kind of style. He played like, let's say, Mutt Carey. He could play all that lovely shakey stuff. Exciting, kind of vibrant." But Ken was getting dissatisfied. One of the band, Ben Marshall, said that "Ken felt he had taken a wrong turning down the road to the ideal band that he had in his head" and, some three months after joining, Ken said he was leaving to rejoin the Merchant Navy in the hope of getting to New Orleans.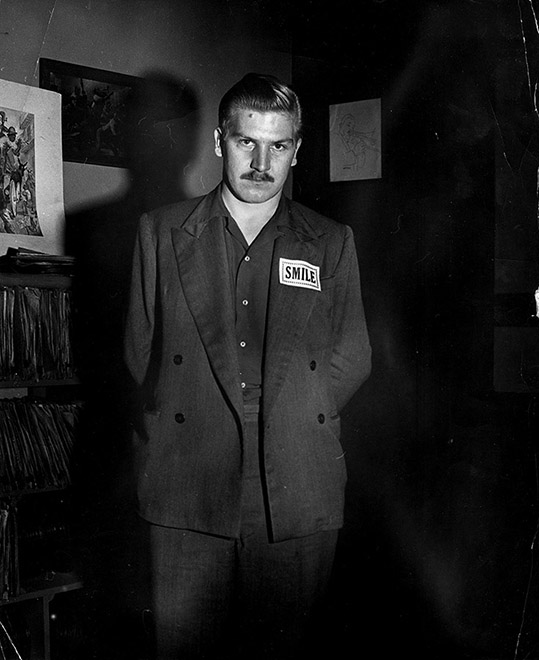 Ken Colyer: The brief brilliance of the Stompers was short-lived. I was down in the dumps, Everything's Wrong, Ain't Nothing Right (Lil Armstrong). We had been getting the American Music's recorded by that marvellous man William Russell—Bunk Johnson is the greatest teacher I have ever had. Then I thought: These men were still playing in New Orleans—they weren't that old—they must still be playing, so the logical thing was to get there while they were still playing.
I checked into the visa business. The problems were insurmountable. Unless you were a man of means, you had no chance. The only way I could think of at the time was to rejoin the Merchant Navy and somehow or other find a boat that took me to New Orleans. The big snag was very few British boats went to the Gulf ports. They were looking for crew for the Empire Patrai which was sailing out of Mobile, Alabama—that's near enough, this is as near as I'm going to get. I made my decision.
I went to the Victoria Docks to see about getting signed back on the pool. The Seamen's Union reared its ugly head. I went to the union office. I tried to argue that I had been a member of the NUR and the MU for some time, but with the "brotherly love" that these people have for the workers they said I would have to pay the back dues from the time I had left the Merch up to the present. Bill helped me out and I paid up and got reinstated.
After a while I thankfully got a standby job on the Port Lyttelton. The guys gave me a farewell session at Cranford and I took the train to Newcastle, getting aboard the ship in the early hours of the following morning. The Lyttelton was to me a brand-new ship. She was a motor ship built in 1947 and very civilised compared with some of the tubs I had sailed on.
This was the start of a succession of ships that would take Ken to the Empire Patrai in Mobile.
Ken Colyer: The weather was fine and we sailed back to Mobile for another cargo. I had some New Orleans phone numbers… Somebody had discovered a phone book in the Westminster Public Library [in London], and had made a note of all the men he knew. Among them was Doctor Edmond Souchon's. I thought it worth a try and [when we docked in Mobile] phoned him from the Seamen's Club. He was
completely bewildered as I tried to explain to him who I was, and how I came to be in Mobile. Eventually he told me there was to be a session at the International House, Gravier Street, if I could make it. Mobile is about 160 miles from New Orleans and I didn't know how long it would take to get there. When we finished work I got ready as quickly as I could… then went to the Greyhound Bus Station.
It took longer than I expected to get there, and part of the session was over when I got to the International House. Doc was a nice fellow with a bluff, hearty manner. He had played guitar with the Johnny Wiggs band. Paul Barbarin's band was there with Kid Howard and Albert Burbank. Richard "Abba Labba" Maclean on bass was the most powerful man I had ever heard, playing with a big tone and plenty of drive. I was in a daze. I had finally made it. It had been a long haul but I was finally there talking and listening to the men.
Ken Colyer letter to Bill Colyer, Friday, 10 October 1952, 1.50 pm: Am taking a flying visit to New Orleans, will get hell for it, as the boat's due to leave at any time—but I guess it's worth it. Just talked to Dr. Souchon on the phone again. I am going to meet at Journalists' reception at International House, Gravier Street. George Lewis Band will be there, and another
group. Will give you results of trip as soon as I can… Doc Souchon was irascible but lovable. He blew hot, he blew cold. He was an eminent figure in New Orleans and a practising surgeon. He showed me great kindness at times. He took me round the old historic places. The ruins of Spanish Fort, where Armand Piron used to play. Bucktown, which he assured me was really wild in the early days, and several other places of interest. Where Mahogany Hall had stood. Doc remembered his young days well. He said he was a heller until he knuckled down and studied medicine. He remembered King Oliver in New Orleans and also heard him in Chicago. He maintained that the band was never as good in Chicago as it was in New Orleans. He saw Tom Brown's Band off on a northern trip before the O.D.J.B. went north. He remembered booking Jelly Roll Morton's band for his college dances. He said they had to treat Mr. Morton with respect, even then. Jelly would take no truck from anyone.
Thanks to Ken's widow Delphine, Chris Stotesbury, Kay and Tony Leppard of the Ken Colyer Trust, Mike Pointon and Ray Smith.