The Forum is particularly proud to run an article on the Missouri Right to Work fight written by Sonny Costa out of Heat and Frost Insulators Association Local 1 in St Louis. As many of our readers know The Forum is named after Jeff Stansbury, a longtime labor and political activist. In his capacity as a reporter for the United Autoworkers' magazine "Solidarity", Jeff covered the anti RTW fight in Missouri 40 years ago. In an article published in Solidarity in 1978 soon after the defeat of RTW, Jeff said: "How did the New Right lose? The keys to its defeat is found in the coalition organized and led by workers, which included small farmers, students, environmentalists, who saw they had as a mutual interest the struggle against "right-to-work". The pivotal force was the rank and file worker. Since the organizing days of the 1930's, Missouri had not seen the outpouring of working class (activities)…that it saw this fall" Maybe history will be repeating itself in Missouri this November.
•
On September 4th 1978 I remember my sister and I sitting on a curb and my father, a proud member of the Heat and Frost Insulators local in St. Louis, handed us a black shirt with white letters that read "RIPOFF". "Right to Work is a RIPOFF" was the slogan used by labor leaders and rank and file union members in Missouri during the campaign against Constitutional Amendment No. 23, the GOP's first attempt to pass a Right to Work law in Missouri 40 years ago. On November 7th 1978, Constitutional Amendment No. 23 was soundly defeated by a three to one margin, marking an important victory for the labor movement across the country.
Since 1978 I have many memories of the Labor Day parade. Walking with my mother, a now retired member of the Communications Workers Union and my father as a child. Walking with my brothers and sisters as a member of the Heat and Frost insulators. Walking with my wife and children. And most recently I have marched as part of the current Anti-Right to Work movement.
The 2016 elections in Missouri went like the rest of the country. The GOP gained a super majority in both the house and the senate. They won all the open seats except the state auditor. The most damaging news for union members in Missouri came when newcomer and Republican Eric Grietens beat Kris Koster for the Governors seat. As Governor his first act was to fast track a Right to Work bill through the legislature. On February 6th he signed SB 19 making Missouri the 28th Right to Work State in the country effective August 28th. That same day Mike Louis, head of the Missouri AFL-CIO and Rod Chapel of the Missouri NAACP filed a petition initiative calling for a citizen's veto of SB 19 to be placed on the November 2018 ballot.
In Missouri for a petition initiative to be certified you must collect five percent of the votes cast in the last governor's election in six of the eight congressional districts. With the numbers we were given that meant we needed 100,126 signatures total to qualify the petition. In March Mike Louis laid out the plan for us: train a few members from each union on how to properly gather signatures. Then use them to train that union's members. From there we wanted to gather signatures from each member's family and friends. The next step was to go to public gatherings such as County Fairs, 4th of July celebrations and high traffic areas like malls.
On April 9th we began training and collecting signatures. Everyone was on-board and ready to fight. As we started gathering signatures, the support we were receiving from people who did not belong to a union was overwhelming. These were the people who understood that weakening unions is a detriment to everyone. Stripping a union's ability to collectively bargain effectively would mean stagnant pay and weaker benefits for everyone not just union members. These people understood that without unions, pensions would be weakened and overtime pay would be lessened. They know that to keep their wages high union wages have to stay high. They know that stronger unions help grow the economy. Stronger unions help put money back into local stores and restaurants. Union members buy American made products and help not only the local economy but also the nation's. Stronger unions help strengthen the backbone of the middle class.
Through the summer of 2017 the working-class people of Missouri stood up and fought back against billionaires named Koch and "Americans for Prosperity". They stood up against multi-millionaires named Humphries, Sinquefield and Hoberock. We stood up and fought back against the people who had poured millions of dollars into the coffers of politicians to get their way in the implementation of anti-worker legislation. We stood up and showed the "1 percent" we were done being attacked and not fighting back.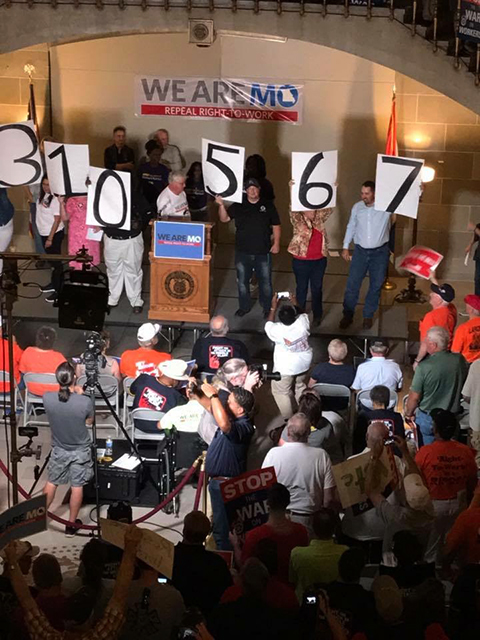 On August 18th 10,000 Missouri citizens filled the Capitol Building in Jefferson City to show the GOP led House and Senate that we were ready for a fight by turning in 310,567 signatures to repeal SB 19. This was more than triple the amount needed, and we qualified a petition in all eight congressional districts for the first time in the state's history. Also we delayed its effective date until after the people vote on the initiative on November 6th 2018.
The September 4th 2017, Labor Day parade in St. Louis had a special feeling as just sixteen days before we had landed the first significant blow in this new fight against Right to Work. We have made this a promise to those who fought before us that we are ready to pick up where my father and his union brothers and sisters left off forty years ago.
•••